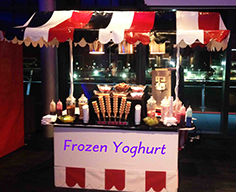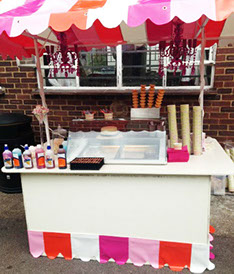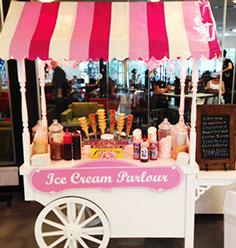 Ice Cream Carts & Frozen Yoghurt Stands...
Whether its January or July our Ice Cream Carts & Frozen Yoghurt Stands will always whip your party into shape.
Whippy or 4 Flavour Scoop Ice Cream Carts or why not try our NEW 7 Flavour Ice Cream Bar all supplied with your favourite toppings.
Our Frozen Yoghurt comes in dairy and dairy free, natural and a great range of other flavours.
Our Ice Cream Carts, Ice Cream Bars and Frozen Yoghurt Stands include 2 hours unlimited serving time by our fully trained & uniformed staff.
Cones,tubs, sugar cones, screwballs, flakes, fudgerydoos, wafers, crushed nuts, bubblegum, Sherbet, choc Sprinkles, 100s & 1000s, mini mallows, Smarties topping and sauces, choc raspberry, lime & bubblegum
We can also supply parve ice cream, egg free, diabetic, kulfi ice cream.
Scoop Ice Cream Cart Flavours:
Vanilla, Strawberry, Chocolate, Bubblegum, Banana, Toffee Fudge, Mint Chocolate Chip,
TOOTIE FRUITY, BLACKJACK and Orange
We also do waffle baskets with fresh summer fruits. Why not personalise your event and include our Ice Cream Wafers with a personal message of your choice. We can also provide personalised signage for any Cart or Bar.
Click here to book an Ice Cream Cart or Frozen Yoghurt Stand for your special event
We can cater for gluten, wheat, soya, egg and milk free, just ask us!
All our equipment is PAT tested and we hold all relevant food hygiene and allergen certificates. We hold Liability Insurance cover e.g. Public & Employer's, and carry out Risk Assessments as standard.
© Copyright Delicious Fruits & Fountains 2011-2015. All rights reserved - All photos on the website are of Delicious Fruits & Fountains events
Terms & Conditions - All offers and discounts are subject to availability and are not valid in conjunction with any other offers - The management reserves the right to remove offers at any time - Travel charges may apply